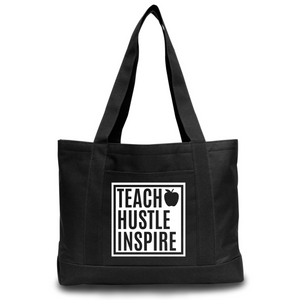 Teach Hustle Inspire
Teach Hustle Inspire - Black Tote
Regular price
$19.99
Sale price
$29.99
Features:
Open front pocket
Gusseted bottom
Reinforced fabric handles
Dimension: 18.5" (wide) x 12" (tall) x 3.5" (depth)
*Teach Hustle Inspire items are original designs and are handmade right here in the U.S.A.
*Care - for best maintenance, hand-washing is recommended
The bag is made from very sturdy material and is convenient for books, supplies, the grocery store, traveling, or any other occasion!  The bag has one open front pocket and measures as follows:  18.5" (wide) x 12" (tall) x 3.5" (depth)
Feel free to post & tag your photos with #TeachHustleInspire and thanks for stopping by!
---
Share this Product
Love it!
I love this bag because of its durability. It's cute and makes walking in and out of school with my ungraded papers stylish lol. Seriously I've had my bag for a couple years and it's still looking great. A full size laptop along with other papers, notebooks, and books can be carried all at once. Plus the pocket on the front brings a special joy to my sticky notes and flair pens obsession. Great investment! I bought one for my teacher bestie!
Teach Hustle Inspire - Black Tote
Teach hustle inspire bag
The material is very sturdy and the print is so nice I can easily carry my laptop to work
---
More from this collection